Find out what your Anniston, AL home is worth from an independent source that specializes in appraisal emulations of residential property in Alabama.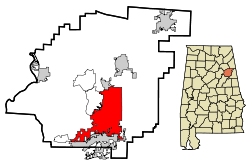 Neighborhoods include Autumn Cove, Edgefield Farms, Golden Springs, Indian Oaks, Laurel Ridge, Mountainview, Rocky Hollow Area, South Leighton Avenue, Tyler Park / Hillyer High, and Woodbridge/Brookhaven.
Anniston was intended to be "The Model City" as it's iron industry boomed in the late 1800's that remains focused on the careful planning of future economic development and the quality of life for it' citizens and surrounding communities.
Get much more than a real estate agent's comparative market analysis (CMA) for Calhoun County communities. We estimate prices for single family homes, condominiums, and townhouses for landlords, investors, and individual buyers and sellers.
Other area cities for property appraisal emulations are Glencoe, Jacksonville, Oxford, Piedmont, Southside, and Weaver.
The average report turnaround time is 24 hours which makes us a fast and affordable source of information. It's important to do your research prior to signing a sales contract to buy or sell any residential real estate.
Anniston Resources
What's My Anniston, AL Home Worth?