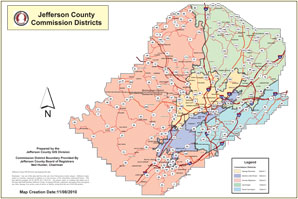 Named after Thomas Jefferson, one of the main authors of the Declaration of Independence and the third President of the United States, Jefferson County was founded in 1819 and is now home to approximately 700,000 people, making it Alabama's most populated county – thanks to Adamsville, Bessemer, Birmingham, Brighton, Center Point, Clay, Fairfield, Fultondale, Gardendale, Graysville, Helena, Homewood, Hoover, Hueytown, Irondale, Kimberly, Leeds, Lipscomb, Midfield, Mountain Brook, Pinson, Pleasant Grove, Tarrant, Trussville, Vestavia Hills, and Warrior.
Over the past ten years property value's have been on a roller coaster ride. Don't guess your Jefferson County home value, let us help you with our property appraisal emulation report. We will not only show you the details (often including photos, floor dimensions and many property characteristics, but also several comparable sales and even previous MLS listing prices.
Real estate agents are great, but if you want to know where your value stands without having to engage a local professional, then use us – we'll get a professional report to you within 24 hours right to your email.
Jefferson County Home Value
Jefferson County Property Appraisal Resources