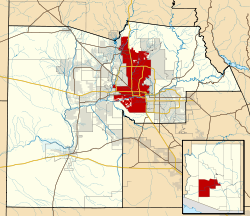 Find out what your Phoenix, AZ home is worth from an independent source that specializes in appraisal emulations of residential property in Arizona. Neighborhoods include Abel's Acre, Accolade, Acoma Park, Adobe Highlands, Adobe Mountain Estates, Ahwatukee, Aire Libre, Alicia Park, Alta Area, Altadena Park, Alta Vista, Amber Hills, Amberlea, Arcadia, Arizona Carousel, Arizona Heights, Arroyo Crossing, Arroyo Grande, Arroyo Rojo, ASU West, Augusta, Autumn Hills, Avante, Aviano at Desert Ridge, Barcelona, Bartlett Heard Ranch, Baseline Manors, Beatitudes Campus, Bel Air, Belcanto Homeowners, Bel Esprit, Bella Casa Manor, Bella Sera, Bella Terra and Beacon Place, Bell Estates 2, Bell Ridge, Bell Road, Bell Tower, Bellvue, Belmont, Benchmark, Berkeley, Berkshire, Bethany East, Bethany Square, Beverly Park & Wrigley, Biltmore, Black Canyon Village, Blue Hills, Brandywine, Breckenridge, Brick Commons, Brighton Park, Bristol Court, Broadstone, Broadway, Brophy Estates, Butler Drive, Cabrillo Canyon 4, Cactus Park, Cactus Wren, Calle De Oro, Calvary, Campo Bello, Campus Vista, Canal North, Canal Watch, Candle Creek, Canyon Estates, Canyon Retreat, Canyon Springs, Capri Mobile Park, Carefree Crossing, Cavalier Campus, Cave Creek Park, Central Phoenix Estates, Cholla Cove Park, Cinema Park Village, Citrus Heights, Citrus Mountain Estates, Cliffs at North Canon, Colter Commons, Colter Park, Concord, Conocido Park, Continental Meadows North, Copper Glen, Copper Leaf, Copper Square, Coral Gables Estates, Cordova, Coronado, Country Gables, Country Place, Country Ridge & Ridgewood Acres, Courtney Village, Courtyard Village, Cox Meadows, Cox Village, Coyote Basin View, Crescent Butte, Cresta Del Oro, Crimson Canyon, Crimson Mountain, Crystal Canyon, Crystal Terrace, and Cypress Point Estates.
Get much more than a real estate agent's comparative market analysis (CMA) for Maricopa County communities. We estimate prices for single family homes, condominiums, and townhouses for landlords, investors, and individual buyers and sellers.
Other area cities for property appraisal emulations are Avondale, Buckeye, Chandler, El Mirage, Glendale, Goodyear, Litchfield Park, Mesa, Peoria, Scottsdale, Surprise, Tempe, and Tolleson.
The average report turnaround time is 24 hours which makes us a fast and affordable source of information. It's important to do your research prior to signing a sales contract to buy or sell any residential real estate.
What's My Phoenix, AZ Home Worth?
Local Resources