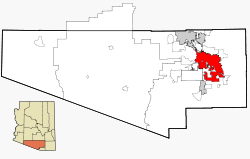 Find out what your Tucson, AZ home is worth from an independent source that specializes in appraisal emulations of residential property in Arizona. Neighborhoods include Amphi, Armory Park, Arroyo Chico, Avilla at Marana, Avondale, Balboa Heights, Barcelona Manor, Barrio Centro, Barrio Historico, Barrio Hollywood, Barrio Kroeger Lane, Bear Canyon, Bear Creek Ranch and Estates, Bel Air Ranch Estates, Black Horse, Blenman-Elm, Bonita Ridge, Brandi Fenton, Briargate, Brichta, Broadmoor-Broadway Village, Broadway Northeast, Butterfield Ranch, Cabrini, Caddis Haley Estates, Camino Verde Estates, Campbell – Grant, Campus Farms East, Canyon Shadows, Carlos Terrace, Carriage Park, Carson Corner, Casa Pomona, Casas Adobes Central, Casas Del Oeste, Casitas Del Valle II, Catalina, Century Dr, Cherry Avenue, Civano, Cloud Ridge, Colinas De Oro, Colonia Allegre & Venice, Colonia Del Valle, Colonia Verde, Continental Ranch, Continental Reserve, Copper Creek, Copper Crest, Coronado Heights, Coronado Villas, Cortaro Crossing, Cortaro Ranch, Cortaro Ridge, Countryside, Craycroft Addition, Crazy Horse, Crescent Ridge, Crest Ranch, Critterland, and Cromwell Estates.
Get much more than a real estate agent's comparative market analysis (CMA) for Pima County communities. We estimate prices for single family homes, condominiums, and townhouses for landlords, investors, and individual buyers and sellers.
Other area cities for property appraisal emulations are Marana, Oro Valley, and Sahuarita.
The average report turnaround time is 24 hours which makes us a fast and affordable source of information. It's important to do your research prior to signing a sales contract to buy or sell any residential real estate.
What's My Tucson, AZ Home Worth?
Local Resources