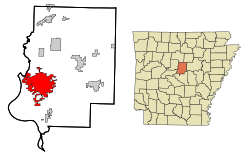 Find out what your Conway, AR home is worth from an independent source that specializes in appraisal emulations of residential property in Arkansas. Neighboring areas include Brownstone, Catherine Place, Centennial Valley, Chapel Creek, Dave Ward Dr, Eaglebrook Estates, East German – Gold Creek, Frederick Place, Freyaldenhoven, Green Acres, Hayden Place, Hendrix Addition, Hendrix Village, Heritage, Justin Place, Mallard Crossing, Marlise Manor, North Conway, Nottingham, Oak Forrest Subdivision, Smoking Oaks/Tucker Creek, South – Center, Southern Hills, Southwind, Spencer Mtn, The Falls, Toad Suck, UCA, Up On Round Mountain, Victoria Park, Westfield, Westin Park Conway, Windwood – Happy Valley, and Woodland Springs.
Get much more than a real estate agent's comparative market analysis (CMA) for Faulkner County communities. We estimate prices for single family homes, condominiums, and townhouses for landlords, investors, and individual buyers and sellers.
Other area cities for property appraisal emulations are Barney, Centerville, Hamlet, Republican, Round Mountain, and Springhill.
The average report turnaround time is 24 hours which makes us a fast and affordable source of information. It's important to do your research prior to signing a sales contract to buy or sell any residential real estate.
What's My Conway, AR Home Worth?
Local Resources