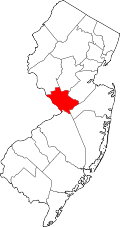 Receive a personalized Mercer County home value report for your residential property in Trenton, Hightstown, Hopewell, Pennington, Princeton, East Windsor, Ewing, Hamilton, Hopewell, Lawrence, Robbinsville, West Windsor, Groveville, Hamilton Square, Lawrenceville, Mercerville, Princeton Junction, Twin Rivers, White Horse, and Yardville.
Find out how much your current or prospective Mercer County primary residence or investment property is worth in less than 24 business hours. We manually research every subject property, compile the data and then have a professional processor evaluate it. We do not rely upon automated property valuation models that often fail in determining the true market value. Instead, we independently investigate and analyze each property every time using the latest data available from official sources. And the best part is that we are a trusted unbiased source of information that is in no way affiliated with buying or selling real estate.
We also research other areas nearby such as
Ackors Corner, Allens Station, Altura, Bakersville, Baldwins Corner, Battle Monument, Bear Tavern, Berkeley Square, Berrien City, Braeburn Heights, Briar Manor, Briarcrest, Briarwood, Broad Street Park, Cadwalader Heights, Carsons Mills, Cedar Grove, Centerville, Central West, Chambersburg, Chestnut Park, Chewalla Park, Churchill Green, Clarksville, Coalport/North Clinton, Colonial Lakelands, Coopers Corner, Coxs Corner, Creston, Delaware Rise, Deutzville, Downtown Trenton, Duck Island, Dutch Neck, East Trenton, East Trenton Heights, Edgebrook, Edinburg, Edinburg Park, Eilers Corner, Eldridge Park, Etra, Ewing, Ewing Park, Ewing/Carroll, Ewingville, Extonville, Fernwood, Ferry Road Manor, Fisher/Richey/Perdicaris, Fleetwood Village, Franklin Corner, Franklin Park, Glen Afton, Glendale, Glenmoore, Golden Crest, Golf View Manor, Green Curve Heights, Greenwood/Hamilton, Grover's Mill, Haines Corner, Hampton Hills, Hanover/Academy, Harbourton, Harneys Corner, Harts Corner, Heath Manor, Hickory Corner, Hickory Hill Estates, Hillcrest, Hillside Terrace, Hillwood Lakes, Hillwood Manor, Hiltonia, Hopewell Valley, Hutchinson Mills, Lakeside Park, Lamberton, Lawrence Station, Lewisville, Locust Corner, Maple Shade, Marshalls Corner, Meadows Terrace, Mill Hill, Millstone, Moore, Mount Rose, Mountainview, New Canton, New Sharon, North 25, North Crosswicks, North Trenton, Nottingham, Old Mill Farms, Pages Corners, Parkside, Parkway Village, Pennington/Prospect, Penns Neck, Pleasant Valley, Pond Run, Port Mercer, Post Corner, Princessville, Princeton Colonial Park, Princeton Estates, Princeton Ivy East, Princeton North, Prospect Heights, Prospect Park, Quaker Bridge, Quaker Gardens, Rosedale, Rosemont, Scudders Falls, Shabakunk Hills, Sherbrook Estates, Sherbrooke Manor, Slackwood, Somerset, South Trenton, Spring Meadows, Stoutsburg, Sturwood Hamlet, Stuyvesant/Prospect, The Island, The Orchards, Titusville, Top Road, Trenton Gardens, Villa Park, Village on the Green, Warner Village, Washington Crossing, Weber Park, West End, West Trenton, Wilbur, Wilburtha, Windsor, Woodsville, Wynnewood Manor, and Yardville Heights.
The final result is an extensive multi-page format that typically features comprehensive property characteristics and itemized detail along with photos, mapping, dimensions, recent sales comparables, MLS listing prices and closing archives, tax assessed history, owner of recorded deed, etc.
Mercer County Home Value
Mercer County Property Appraisal Resources