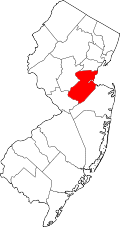 Receive a personalized Middlesex County home value report for your residential property in New Brunswick, Perth Amboy, South Amboy, Carteret, Dunellen, Helmetta, Highland Park, Jamesburg, Metuchen, Middlesex, Milltown, Sayreville, South Plainfield, South River, Spotswood, Cranbury, East Brunswick, Edison, Monroe, North Brunswick, Old Bridge, Piscataway, Plainsboro, South Brunswick, Woodbridge, Avenel, Brownville, Clearbrook Park, Colonia, Concordia, Cranbury, Dayton, Fords, Heathcote, Iselin, Kendall Park, Kingston, Laurence Harbor, Madison Park, Monmouth Junction, Old Bridge, Plainsboro Center, Port Reading, Princeton Meadows, Rossmoor, Sewaren, Society Hill, Whittingham, and Woodbridge.
Find out how much your current or prospective Middlesex County primary residence or investment property is worth in less than 24 business hours. We manually research every subject property, compile the data and then have a professional processor evaluate it. We do not rely upon automated property valuation models that often fail in determining the true market value. Instead, we independently investigate and analyze each property every time using the latest data available from official sources. And the best part is that we are a trusted unbiased source of information that is in no way affiliated with buying or selling real estate.
We also research other areas nearby such as Adams, Applegarth, Avon Park, Barber, Berdines Corner, Black Horse, Bonhamtown, Boynton Beach, Brookview, Browntown, Brunswick Gardens, Cheesequake, Chrome, Clara Barton, Clearbrook, Cottageville, Cottrell Corners, Cranbury Station, Crossmans, Deans, Dunhams Corner, East Spotswood, Edgars, Edgebrook, Ernston, Fairview Knolls, Farrington Lake Heights, Feaster Park, Fieldville, Franklin Park, Fresh Ponds, Georges Road, Gillespie, Gillilandtown, Gravel Hill, Greensand, Half Acre, Halls Corner, Harbor Terrace, Haven Homes, Hazelton, Herberts, Hoffman, Hopelawn, Jamesburg Gardens, Jamesburg Park, Jefferson Park, John J Delaney Homes, Keasbey, Lahiere, Laurel Park, Lawrence Brook Manor, Lincoln Park (Edison), Lincoln Park (New Brunswick), Lindenau, Little Rocky Hill, Lynn Woodoaks, MacArthur Manor, Maple Meade, Martins Landing, Matchaponix, Maurer, Mechanicsville, Melrose, Menlo Park, Menlo Park Terrace, Middlesex Downs, Moerls Corner, Morgan, Morgan Heights, Morristown, Mounts Mills, New Dover, New Durham, New Market, Newton Heights, Newtown, Nixon, North Edison, North Stelton, Oak Tree, Old Church, Orchard Heights, Outcalt, Parlin, Patricks Corner, Paulas Corner, Phoenix (Edison), Phoenix (Sayreville), Possumtown, Potters, Prospect Plains, Pumptown, Randolphville, Raritan Gardens, Raritan Landing, Raritan Manor, Red Lion, Redshaw Corner, Riverview Manor, Robinvale, Samptown, Sand Hills (Edison/Woodbridge), Sand Hills (South Brunswick), Sayerwood South, Sayre Woods, Sayreville Junction, Sayreville Station, Schalks, Scotts Corner, Shore Road Estates, Shore View, South Brunswick Terrace, South Old Bridge, Spotswood Manor, Stelton, Tanners Corner, Texas, Thomas J Dohany Homes, Tracy, Union Valley, Valentine, Washington Heights, Washington Park, West Carteret, Westons Mills, William Dunlap Homes, Woodbridge Oaks, and Wyckoffs Mills.
The final result is an extensive multi-page format that typically features comprehensive property characteristics and itemized detail along with photos, mapping, dimensions, recent sales comparables, MLS listing prices and closing archives, tax assessed history, owner of recorded deed, etc.
Middlesex County Home Value
Middlesex County Property Appraisal Resources